Otherwise known as nearsightedness, myopia occurs when the eye grows too long from front to back. Instead of focusing images on the retina the light-sensitive tissue in the back of the eye the lens of the eye focuses the image in front of the retina. People with myopia have good near vision but poor distance vision. They can have difficulty clearly seeing a movie or TV screen, a whiteboard in school or while driving. Even though the tendency to develop myopia may be inherited, its actual development may be affected by how a person uses his or her eyes. Individuals who spend considerable time reading, working at a computer, or doing other intense close visual work may be more likely to develop myopia.
 Myopia in Children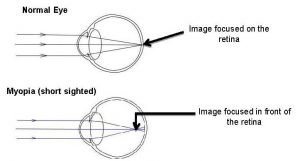 Myopia is inherited. If a parent has myopia their child may get is as well. Myopia is often discovered in children when they are between ages 8 and 12 years old.
Here are some simple eye care tips for your child.
Reduce time spent on near work
Increase time spent on outdoor activities every day
Encourage other healthy eye care habits
Take your child for eye check-ups yearly
Ensure a healthy lifestyle
High Myopia
If the myopia is mild, ophthalmologists call this low myopia. They call severe myopia high myopia. High myopia will usually stabilize between the ages of 20-30 years old. Usually, you can correct high myopia with glasses or contact lenses. Sometimes, refractive surgery can correct high myopia.
How to improve eyesight
1. Get enough key vitamins and minerals
Vitamins A, C, and E, as well as the mineral zinc, contain antioxidants that can help prevent macular degeneration. It's a condition in which the macula — the part of the eye that controls central vision — deteriorates.
Food sources for these important nutrients include a variety of colorful vegetables and fruits, such as:
carrots
red peppers
broccoli
spinach
strawberries
sweet potato
citrus
Foods rich in omega-3 fatty acids, such as salmon and flaxseed, are also recommended for better eye health.
2. Don't forget the carotenoids
A few other nutrients are also keys to improving eyesight. Among them are lutein and zeaxanthin, which are carotenoids found in the retina. You can also find them in leafy green vegetables, broccoli, zucchini, and eggs.
Lutein and zeaxanthin can also be taken in supplement form. These carotenoids help protect the macula by improving pigment density in that part of the eye, and absorbing ultraviolent and blue light.
3. Stay fit
Yes, exercise and maintaining a healthy weight can help your eyes, not just your waistline. Type 2 diabetes, which is more common in people who are overweight or obese, can cause damage to the tiny blood vessels in the eyes.
This condition is called diabetic retinopathy. Too much sugar circulating in your bloodstream injures the delicate walls of your arteries. Diabetic retinopathy causes the very small arteries in your retina — the light-sensitive back part of the eye — to leak blood and fluid into the eye, harming your vision.
Getting your blood sugar levels checked regularly and staying fit and trim can lower your odds of developing type 2 diabetes and its many complications.
4. Manage chronic conditions
Diabetes isn't the only disease that can affect your vision. Other conditions, such as high blood pressure and multiple sclerosis, can affect your eyesight. These conditions are linked to chronic inflammation, which can harm your health from head to toe.
Inflammation of the optic nerve, for example, can cause pain and even complete vision loss. While a disease such as multiple sclerosis can't be prevented, you can try to manage it with healthy habits and medications.
High blood pressure can be effectively treated with a heart-healthy diet, exercise and antihypertensive medications.
5. Wear protective eyewear
Whether you're playing racquetball, working in your garage, or doing a science experiment in school, it's vital that you protect your eyes with appropriate eyewear.
Tough, protective eyewear is essential if there is a risk of chemicals, sharp objects, or materials such as wood shavings, metal shards, or even a stray elbow during a basketball game, entering your eye.
Many protective goggles are made with a type of polycarbonate, which is about 10 times tougher than other forms of plastic.
6. That includes sunglasses
Sunglasses aren't just for looking cool. Wearing shades is one of the most important steps you can take when it comes to improving your eyesight. You want sunglasses that block out 99 to 100 percent of UVA and UVB radiation from sunlight.
Sunglasses help protect your eyes from conditions that stem from eye damage. These include cataracts, macular degeneration, and pterygium — a growth of tissue over the white part of the eye. Pterygiums can lead to astigmatismTrusted Source, which can cause blurred vision.
Wearing a wide-brimmed hat can also help protect your eyes from sun damage.
7. Follow the 20-20-20 rule
Your eyes work hard during the day and need a break now and then. The strain can be especially intense if you work at a computer for long stretches at a time. To ease the strain, follow the 20-20-20 rule.
That means every 20 minutes, you should stop staring at your computer and look at something 20 feet away for 20 seconds.
8. Quit smoking
You know smoking is bad for your lungs and your heart, not to mention your hair, skin, teeth, and just about every other body part. That includes your eyes, too. Smoking dramatically raises your risk of developing cataracts and age-related macular degeneration.
Fortunately, your eyes, lungs, heart, and other body parts can start to recover from years of tobacco-induced harm within the first hours of quitting. And the longer you can avoid cigarettes, the more your blood vessels will benefit and inflammation will ease off throughout your eyes and the rest of you.
9. Learn your family's eye health history
Some eye conditions are hereditary, so being aware of eye conditions that your parents or grandparents had can help you take precautions.
Hereditary conditions include:
glaucoma
retinal degeneration
age-related macular degeneration
optic atrophy
Understanding your family history can help you take early precautions
10. Keep your hands and lenses clean
Your eyes are especially vulnerable to germs and infections. Even things that just irritate your eyes can affect your vision. For those reasons, you should always wash your hands before touching your eyes or handling your contact lenses.
It's also super important to wash your hands and disinfect your contact lenses as instructed.
You should also replace your contact lenses as advised by the manufacturer or your doctor. Germs in your contact lenses can lead to bacterial infections of the eyes.
Treatment
Eyeglasses.This is a simple, safe way to sharpen vision caused by nearsightedness. The variety of eyeglass lenses is wide and includes single vision, bifocals, trifocals and progressive multifocals.
Contact lenses.These lenses are worn right on your eyes. They are available in a variety of materials and designs, including soft and rigid, gas permeable in combination with spherical, toric and multifocal designs.
Refractive surgery
Refractive surgery reduces the need for eyeglasses and contact lenses. Your eye surgeon uses a laser beam to reshape the cornea, which results in a decreased nearsighted prescription. Even after surgery, you may need to use eyeglasses.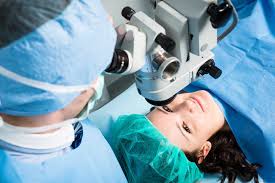 Laser-assisted in situ keratomileusis (LASIK).With this procedure, your eye surgeon makes a thin, hinged flap into your cornea. He or she then uses a laser to remove inner layers of your cornea to flatten its domed shape. Recovery from LASIK surgery is usually more rapid and causes less discomfort than other corneal surgeries.
Laser-assisted subepithelial keratectomy (LASEK).The surgeon creates an ultra-thin flap only in the cornea's outer protective cover (epithelium). He or she then uses a laser to reshape the cornea's outer layers, flattening its curve, and then replaces the epithelium.
Photorefractive keratectomy (PRK).This procedure is similar to LASEK, except the surgeon completely removes the epithelium, then uses the laser to reshape the cornea. The epithelium is not replaced, but will grow back naturally, conforming to your cornea's new shape.
How Atropine Eye Drops Work
Atropine is an anticholinergic substance. Applying atropine eye drops dilates the pupils and temporarily paralyzes the focusing muscle inside the eye. It also relaxes the eyes' focusing mechanisms. Research has suggested that myopia in children may be connected to focusing fatigue so using atropine can control myopia by disabling the focusing mechanism. The suggested dosage for atropine eye drops is 0.01 percent to minimize the risk of side effects. Ask your eye doctor if this myopia control method is right for you or your children.
Currently, there is no cure for nearsightedness. But there are proven methods that can be prescribed by an eye doctor to slow the progression of myopia during childhood. These myopia control methods include specially designed contact lenses and atropine eye drops.